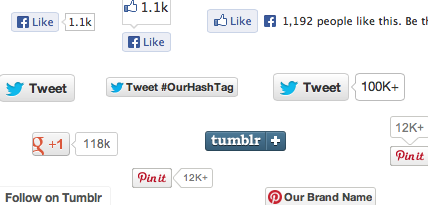 There are plenty of Axure widget libraries offering social media icons, but none (that I've found) offering a comprehensive set of sharing tools. I find I need sharing buttons at least as often as I need icons, so I put together this library featuring (just about) all of the "official" share/tweet/add/pin button versions for Facebook, Twitter, Google+, Pinterest, and Tumblr.
Each button is a separate widget. They're not editable yet, but I may add that in the future. For now, buttons which show a hashtag or username just say "#hashtag" and "OurBrandName" to keep them as flexible as possible.
UPDATE: Twitter handles, Usernames, and hashtags within buttons are now editable. Just right-click on the widget and select "Edit Image > Edit Text".
Download them here: http://www.markmontri.com/downloads/social_share_buttons.rplib.zip